Ad Observatory
Ad Observatory is a project of NYU Cybersecurity for Democracy and provides access to explore political advertising across Meta, including Facebook and Instagram. Search by keywords, a topic, sponsor, or region to see data visualizations on spend, messaging trends, and more, in Spanish and in English.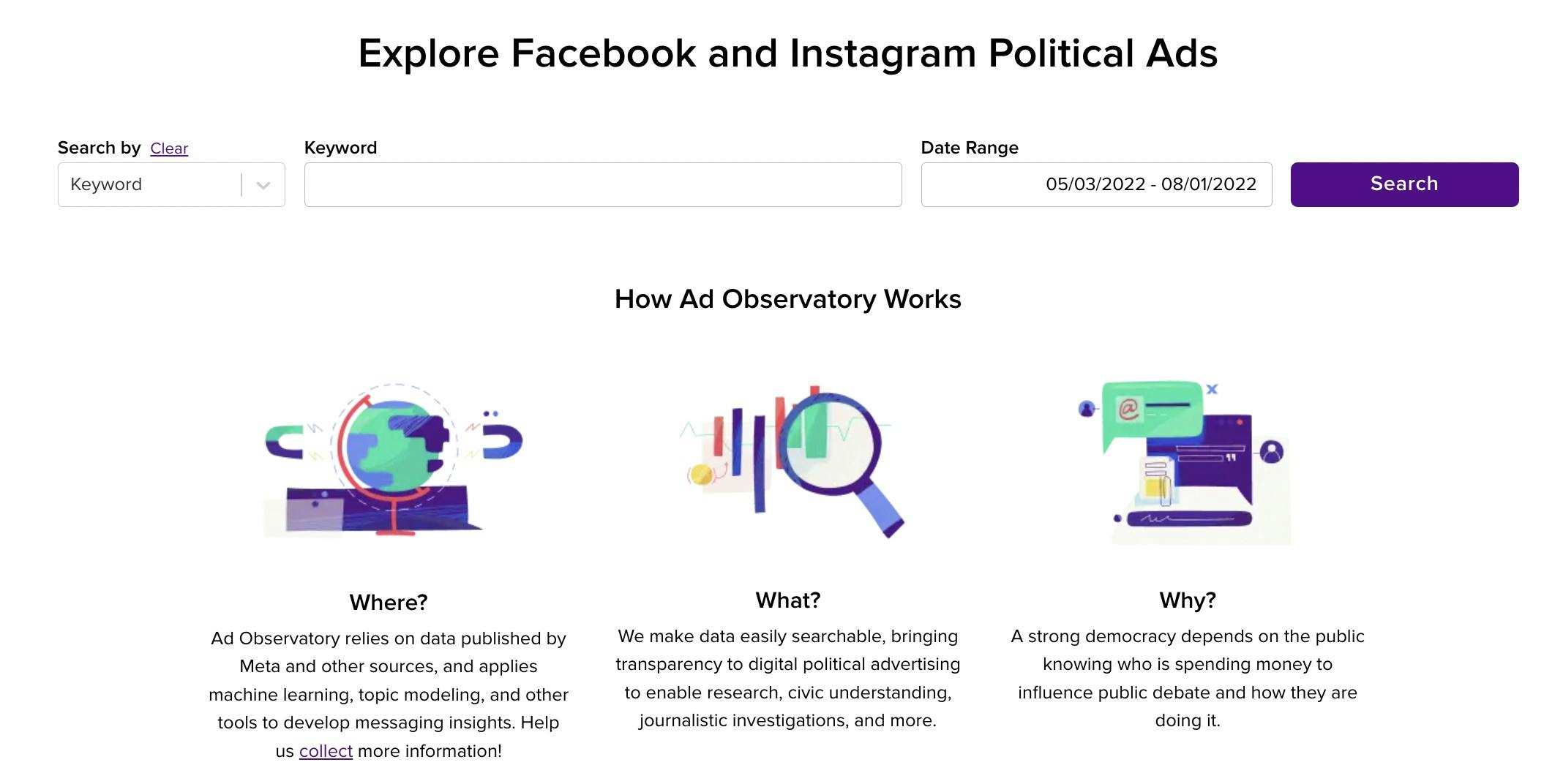 Ahead of the U.S. midterm elections, projected to draw some $1.2 billion in digital political spending, on August 3, NYU Cybersecurity for Democracy(C4D) at the NYU Tandon School of Engineering launched a new, enhanced version of Ad Observatory —AdObservatory.org— available in both English and Spanish, with increased search functionality.
This public, free dashboard provides journalists and researchers with the ability to search digital political ad spending across Meta (formerly Facebook) properties, see visualizations of spending patterns, and search researched topics such as abortion, guns, and immigration.
Ad Observatory builds on the project's success in the 2020 elections, when the site was used by dozens of researchers and journalists to identify spending by political candidates, demonstrate shortcomings in Facebook's transparency, and to research investigations about scams and political extremism. For this new version of Ad Observatory, the C4D team met with journalists and researchers to find out what kinds of questions they want to answer that they can't find with other tools. An interest in Spanish-language ads topped the list, as did the need for data visualizations providing insights on the messaging within the ads, via topics and keyword searches.
Five things you can learn from Ad Observatory about digital political advertising
Maybe you want to know how to find insights on who is advertising about topics such as "abortion," "guns," and immigration–in English, and in Spanish. Or maybe you want to know who is spending more on Meta advertising in your local Senate race, and whether they are targeting voters outside your state. Or maybe you want to see the advertisers spending the most in your region. Read this primer on how to get started with insights on political messaging across Facebook and Instagram ahead of the 2022 elections.
Methodology
C4D collects data from a variety of sources and applies machine learning, topic modeling, and other types of tools to develop messaging insights on Ad Observatory. Data sources include:
The Meta Ad Library contains a comprehensive, searchable collection of ads running across Meta technologies. Ads about "social issues, elections or politics," or political ads can be identified because they include information about who paid for the ad in a "Paid for by" disclaimer. See Meta's documentation of its definition of these ads.
Meta Ad Library Reports contain weekly summary information about social issues, elections, and politics ads across its sites.
C4D researchers provide analysis and modeling of these data, so Ad Observatory users can see patterns in digital advertising: who is spending money on ads, what topics they are focusing on, what types of ads they are running (donate, buy, show up, etc.), types of ads, and spending on ads.
Learn more about the methodology developed by C4D researchers for Ad Observatory.