Few House & Senate candidates spending on Spanish-language Facebook & Instagram political ads
Despite information gaps for Spanish speaking voters, candidates are largely sticking to English ads
Despite widespread concern about mis- and disinformation targeted to Spanish speakers – and a corresponding need to ensure trustworthy information about elections is communicated to this audience – only a handful of federal general election candidates are investing in Spanish-language political ads on Facebook and Instagram, according to a new analysis from NYU Cybersecurity for Democracy (C4D) based on Meta ad data available through NYU Ad Observatory.
Just seven U.S. House and Senate candidates have spent an estimated $5,000 or more on Spanish-language ads since January, and 11 more than $2,000, in the run up to the midterm elections. Of these candidates, eight are Democrats, and three are Republicans. 
Those candidates who did spend above $2,000 on Spanish-language ads hail from states with large Hispanic populations, such as Arizona, California, Texas, and Florida. But even in these states, only a small minority of federal candidates are running ads in Spanish. For context, according to the U.S. Census Bureau, three out of four Hispanics of voting age live in ten states. In these states, there are a total of 7 Senate and 207 House seats at play, or approximately 398 candidates.
Overall, federal candidates have spent an estimated total of $231,800 on Spanish-language ads, versus $19.9 million on English-language ads. 
More findings:
Senate Democratic candidate Mark Kelly, Arizona, spent the most on Spanish-language advertisements –$107,950 –more than double the estimated $45,590 spent on Spanish language ads by Val Demmings, Democratic candidate for Florida Senate, who ranked second.
Just two races – the Florida Senate race and California's 27th district, near Los Angeles – featured both major party candidates spending more than an estimated $2,000 on Spanish-language ads.
Spanish-language ad themes echo those running in English-language ads, such as abortion and immigration. Several candidates are running ads that feature support from law enforcement.
The small amount of spending on Spanish-language ads is consistent with the pattern C4D saw in research on 2020 political ad spending on Meta. In that analysis, Spanish-language ads and ads containing both Spanish and English-language text accounted for an estimated 2.7% of all political advertising by candidates and outside groups spending on Meta. While there's much concern about Spanish-language misinformation, there is also corresponding concern among experts that there is a lack of Spanish-language information from trustworthy sources, as noted by Equis Research and Equis Labs.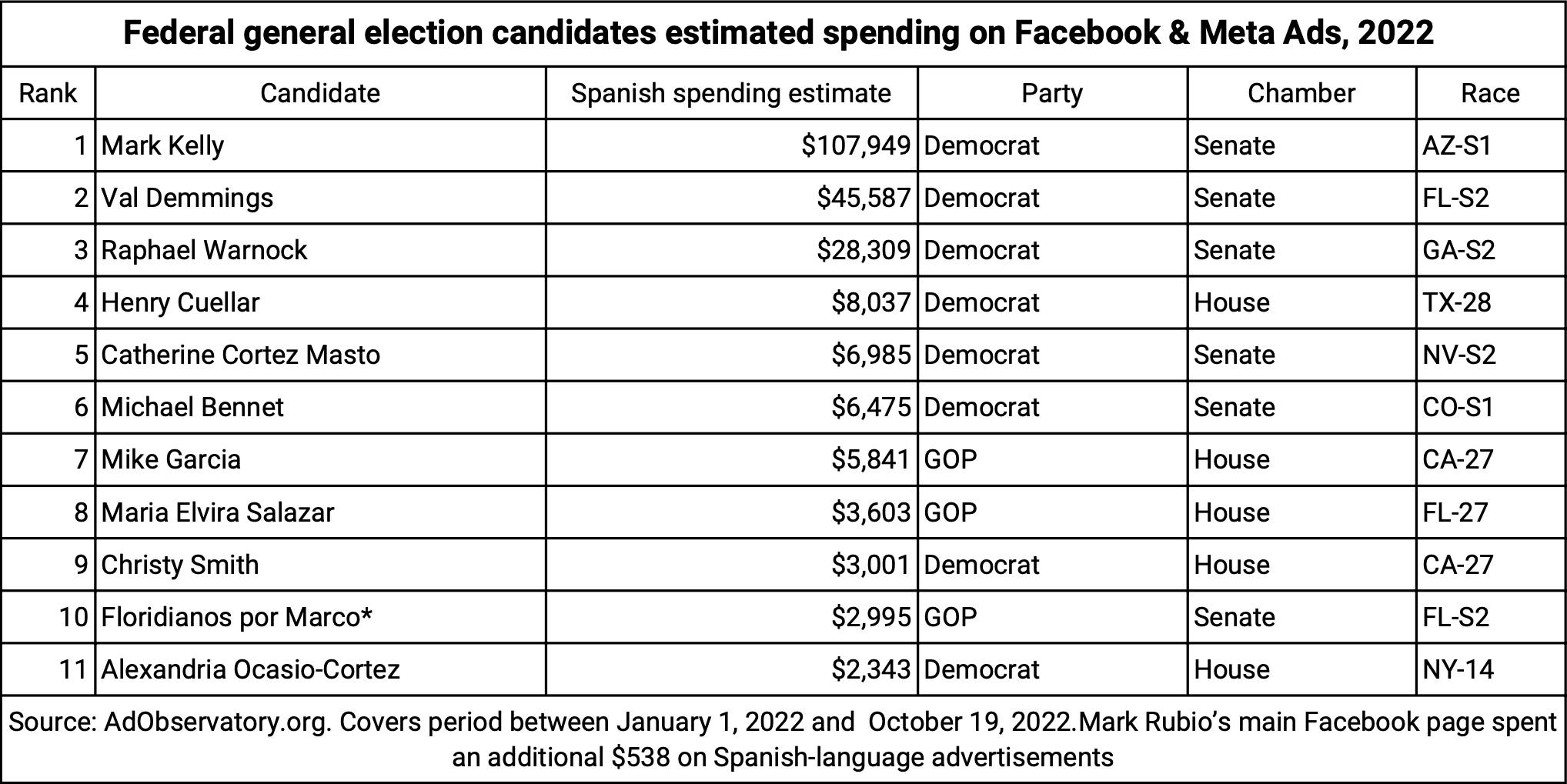 Sample Spanish-language political ads by major party candidates
California's 27th district
In California's 27th district, Democratic candidate Christy Smith is running Spanish-language ads attacking her GOP opponent, Mike García. In the ad below, she criticizes his position on abortion, calling him "extremist" for supporting an abortion ban with no exceptions for incest, rape, and health of the mother.
Translation: García wants to ban abortion in all states, including in cases of rape, incest, and cases where the mother's health is in danger.
García is also running ads critical of Smith. In this one, he claims that she wants to raise taxes.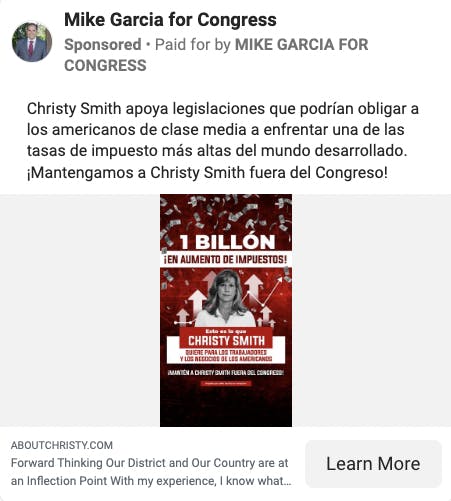 Translation: Christy Smith supports legislation that could force middle-class Americans to face one of the highest tax rates in the developed world. Let's keep Christy Smith out of Congress!
Arizona Senate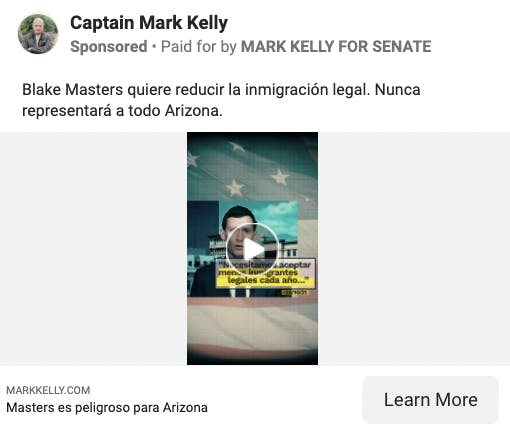 Translation: Blake Masters wants to reduce legal immigration. He will never represent all of Arizona.
Florida Senate
Translation: After graduating from college, I went into public service as a social worker and became Chief of Police. I am now running for Senate to continue serving everyone in Florida.
C4D collects data from a variety of sources and applies machine learning, topic modeling, and other types of tools to develop messaging insights on Ad Observatory. Data sources include:
The Meta Ad Library contains a comprehensive, searchable collection of ads running across Meta technologies. Ads about "social issues, elections or politics," or political ads can be identified because they include information about who paid for the ad in a "Paid for by" disclaimer. See Meta's documentation of its definition of these ads.
Meta Ad Library Reports contain weekly summary information about social issues, elections, and politics ads across its sites.
Meta reports broad ranges for spend of individual ads, instead of exact numbers. In order to estimate the spend of particular ads, C4D researchers incorporate multiple sources of data.
C4D uses language detection to identify ads with Spanish-language texts, and is continuing to test new ways of doing so. 
​​Population figures from U.S. Census Bureau, "Citizen Voting Age Population (CVAP) Special Tabulation From the 2016-2020 5-Year American Community Survey (ACS)," downloaded Oct. 26, 2022. The ten states with highest Hispanic populations are: California, Texas, Florida, New York, Arizona, Illinois, New Jersey, Colorado, New Mexico, and Georgia. Information on the number of House and Senate seats from Ballotpedia.